Joshua Jackson Vandevert and Red Cloud Ranch
Joshua Jackson Vandervort was born in Piketown County, Ohio in 1822, and came to Oregon in 1848, meeting Thomas Clark, an Englishman along the way. The two worked briefly at Dr. John McLoughlin's lumber mill in Oregon City before decamping to catch the early days of the California Gold Rush. Known as Jackson and sometimes simply as Jack, Vandervort continued to mine gold while Clark went east to acquire horses and farm equipment to sell in Oregon. Thomas brought his sister, Grace Hodgson Clark back with him along the Oregon Trail where she narrowly escaped death in the Clark Massacre.
Jackson and Grace were married on April 14, 1853 in "Coast Fork", Oregon. Before their first son, William Plutarch was born, Grace told Jackson that Vandervort sounded "too Dutchy" and he agreed to change his last name to Vandevert. The Coast Fork of the Willamette River flows through Cottage Grove, Oregon, where the couple obtained a 320 acre donation land claim in the Delight Valley. The Donation Land Act of 1850 was a forerunner to the Homestead Act that gave land to Oregon settlers to encourage immigration. It was one of the first laws in the United States that allowed married women to own property in their own name. Joshua Jackson owned the east half of the property and Grace owned the west half.
Though Grace had been scarred and nearly killed by Indians on the Oregon Trail, she dedicated her efforts to helping Indians near Cottage Grove and taught Indian children in school along with her own.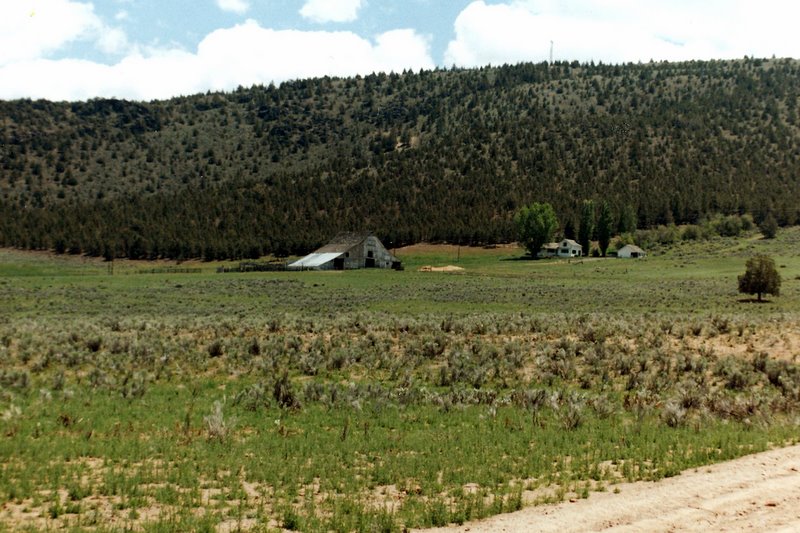 Grace died February 20, 1875, and Jackson moved to Powell Butte shortly thereafter to start a new ranch. Powell Butte lies east of the Cascade Mountains between the Deschutes River and the Crooked River. It is dry high desert land and Vandevert selected a site with a good spring on it that came to be known as Vandevert Spring. Many settlers in the area hauled water from the spring to their own land until 1909, shortly after the Central Oregon Irrigation canal arrived and the Powell Butte Wood Stave Siphon was built. The photo at right shows the general area of the ranch as it appeared in 1991. The barn was built by Joshua but the other buildings are more recent.

Vandevert called his place Red Cloud Ranch. Red Cloud was a chief of the Oglala Lakota Sioux, famous as a war leader against the United States in Red Cloud's War (1866-1868) in northeastern Wyoming and southern Montana. By the time Jackson founded his ranch, Red Cloud had met twice with President Ulysses S. Grant and had led his tribe in its transition to reservation life. Red Cloud died in 1909 and his direct descendant, Oliver Red Cloud is the head chief of the Oglala Lakota Sioux and spokesman for the Lakota Sioux Nation.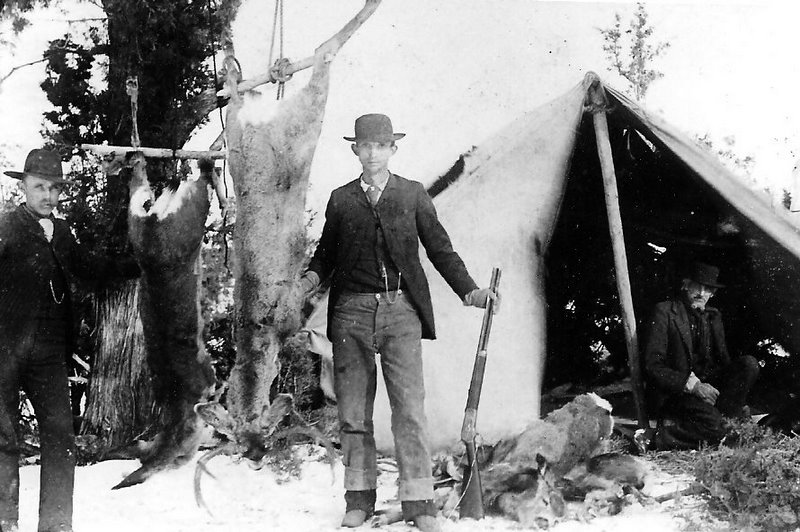 Joshua and Grace had a son and a daughter who died as children and four sons who grew to adulthood. Charles, Dick, and Walter filed on adjoining homesteads on the Little Deschutes. Charles then moved to Trout Creek near Ashwood where he died in a horse and wagon accident in 1902. Dick owned a stagecoach company and a stage stop in Prineville. Later he moved to Eugene. Walter rode for various ranches in Crook County and claimed to know Central Oregon better than any other one person. William Plutarch, the eldest son, bought land from Charles on the Little Deschutes and founded Vandevert Ranch. The photo at left of a hunting trip shows, from left to right, Charles, Dick, and Joshua Jackson.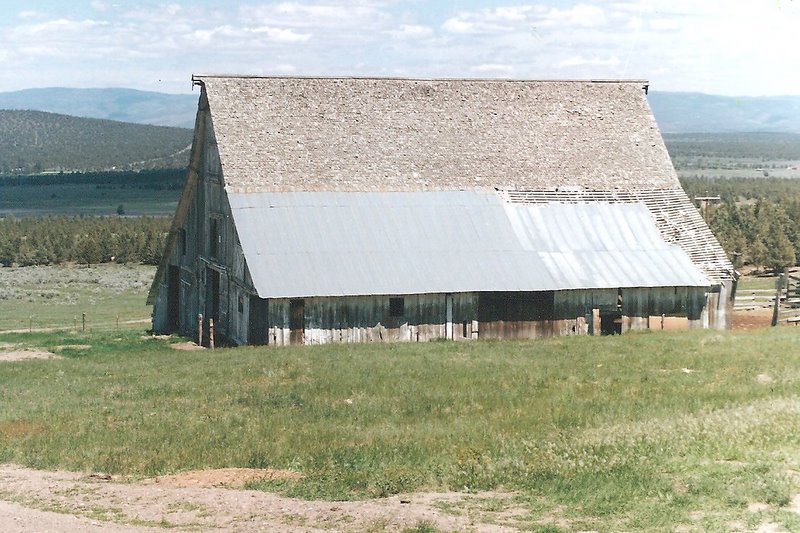 Joshua built a large barn on his ranch that still stands today. The accompanying photo of the Vandevert barn was taken in 1991. Joshua lived 88 years and died July 18, 1910 in Prineville. Part of the original Red Cloud Ranch, including the spring, became a five acre lot housing development called Red Cloud Ranch. A German developer had plans in 1991 to develop another part of the original ranch, including the barn, into a vacation resort called Stagecoach Ranch that would especially appeal to Europeans fascinated with the old American west. These plans did not come to fruition and this portion of the ranch remains in private hands.
Sources
Bennett, Sam, Crook Planners to look at proposed development site, The Bulletin, March 28, 1991.
75 Years Ago - Pioneer Walter J. Vandevert Dies, The Bulletin December 26, 2004.
Interview with Ruth Lane (Charles Vandevert's daughter) in Prineville, Oregon, by Grace McNellis June 6, 1991
McNellis, Grace Vandevert – photos, genealogies, land donation certificate, personal recollections